Christian Education Program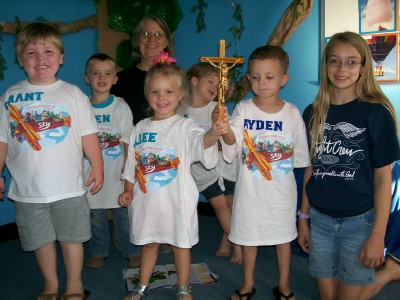 St. James' Christmas Eve Pageant 2011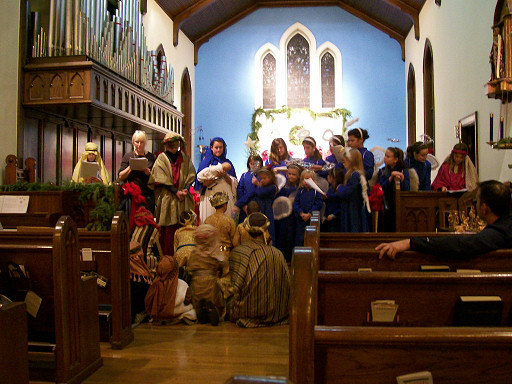 Mosaic Crosses - St. James Youth create crosses
Wednesday Night Grapple Grades 4-8 & Senior EYC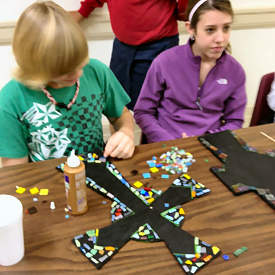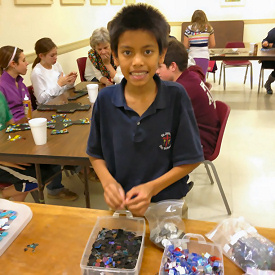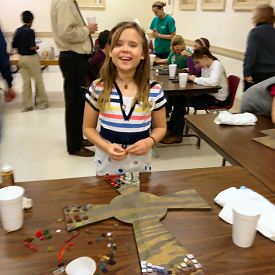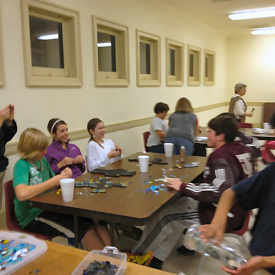 St. Nicholas visited the children December 4, 2011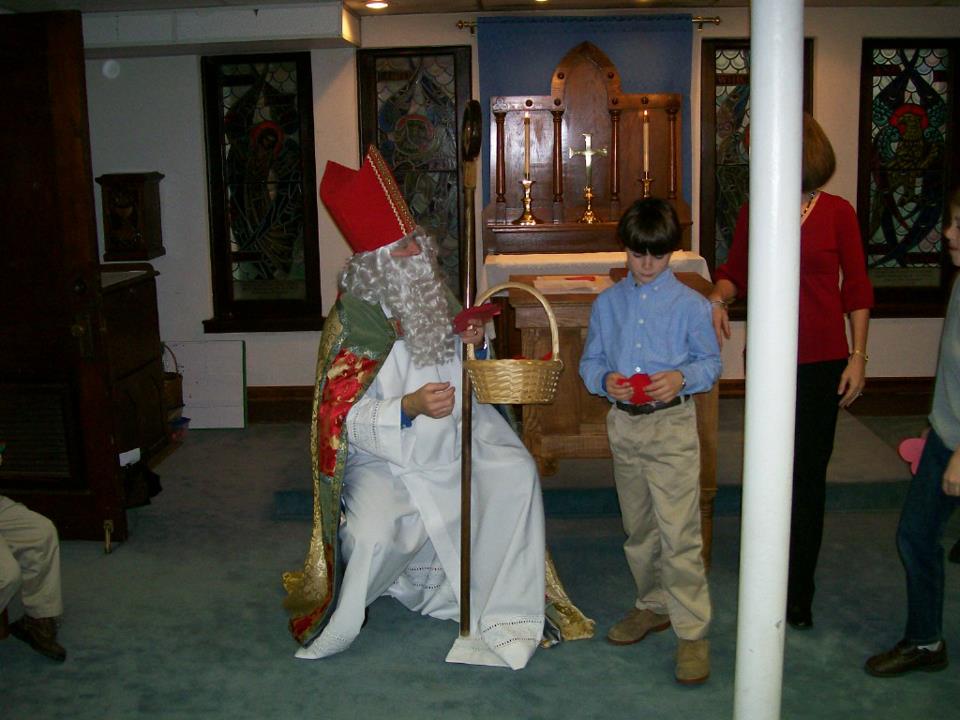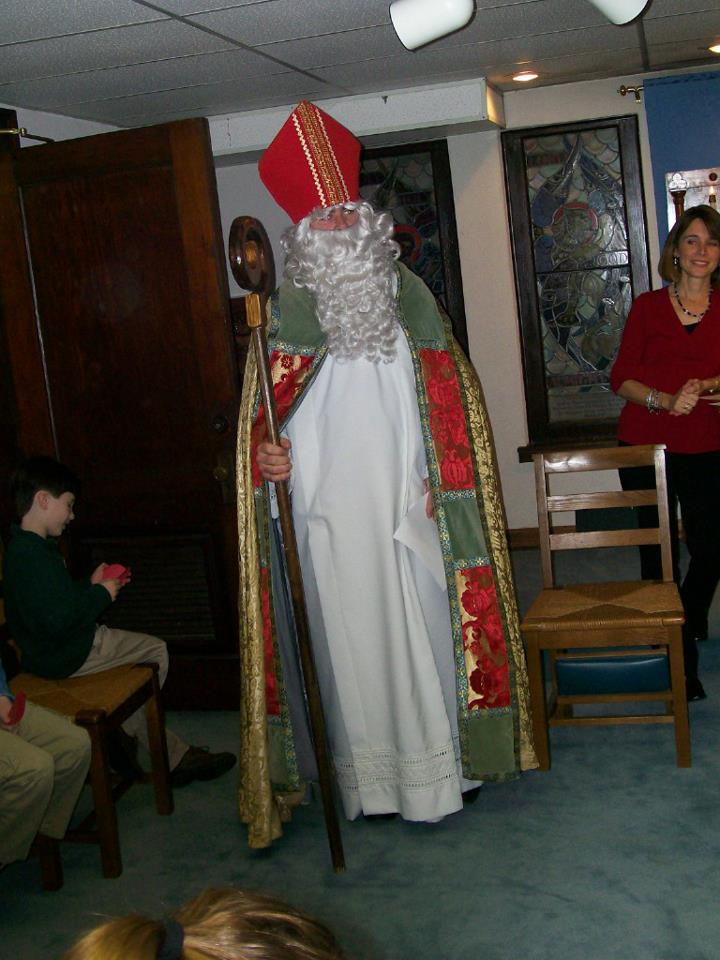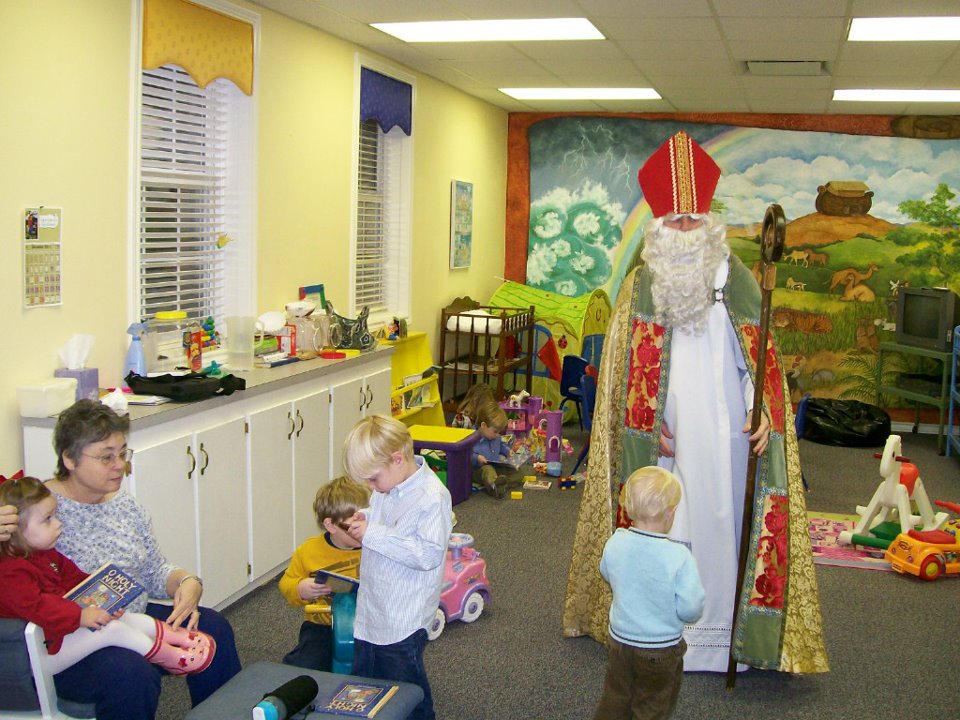 All Saints Parade 2010 (10/31/10 observed)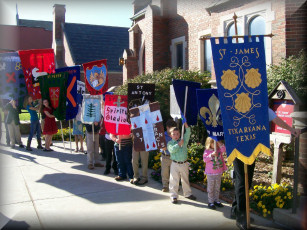 Wednesday Nights @ St James'
Christian Education Opportunities
Faithweaver Friends(K/4 through Grade 5)
Grapple for Middle School(Grades 6 – 8)
Adult Christian Education – Great Hall
---
Exciting things are happening at St. James'!
Sunday Mornings around the parish church school classes...
Children may be admitted to Communion before Confirmation with the consent of the parish priest, with the permission of the child's parents and after age-appropriate instruction in the meaning of the Eucharist. (Guidelines of the House of Bishops, 1971).

First and Second grade students will receive this instruction during the regular Sunday morning classes in the New Year.

First Holy Communion will be celebrated at the Easter Vigil Saturday, March 30, 2013 at
. It is expected that those children who have not yet begun to receive Holy Communion will
not
begin to do so until they have received instruction and are formally admitted to Holy Communion. Children in First or Second Grades and younger who have already started receiving Communion will be allowed to continue to do so, but will receive the same course of instruction.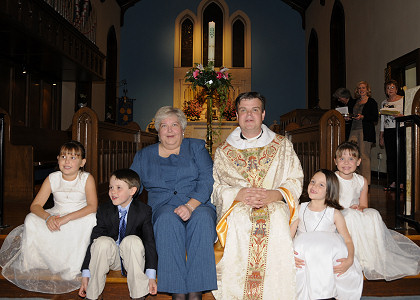 2009 First Holy Communion Class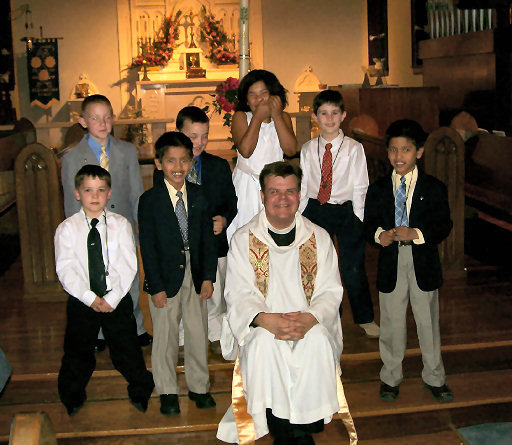 2008 First Holy Communion Class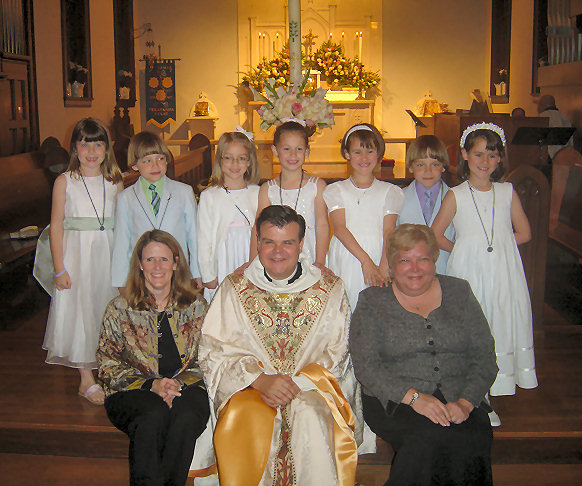 2007 First Holy Communion Class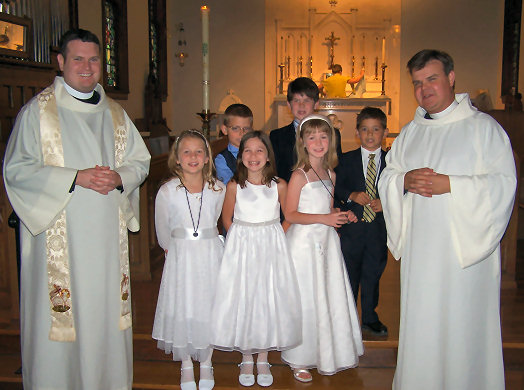 First Holy Communion Class May 2006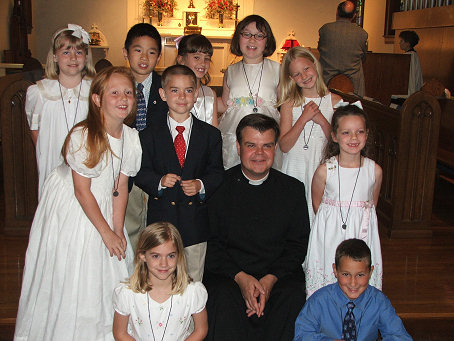 First Holy Communion Class May 2005
---
According to the Prayer Book (p. 412), Confirmation is meant to be "a mature public affirmation of their faith" after due preparation.

It is now generally agreed that the Sacrament of Confirmation should be administered at an older age than has been the custom in the past, with the consensus emerging throughout the Episcopal Church that "mature" means young adulthood, the 10th through 12th grade. In order to be a candidate for Confirmation, one must be baptized, active in worship, and participating in the EYC.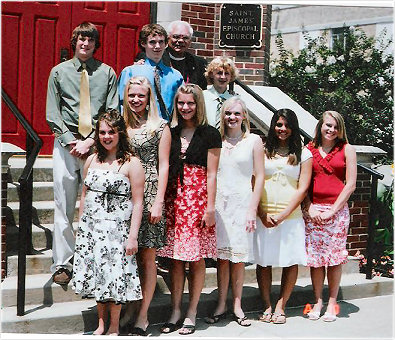 St.James' Church 2006 Confirmation Class with Bishop Stanton
---
ST. JAMES CHRISTIAN EDUCATION PROGRAM
---
Sunday Mornings
Church
School
classes will meet from until , at which time the children will gather for a light snack.
Bibles, knights, castles, stories, games, art, science…
These are the components of the Keys to the Kingdom for our children K/4 through grade 5 in which they will explore stories of the Bible in a variety of ways, curriculum by PowerXpress. The program develops over a series of four weeks in which a single Bible story is taught in workshops such as storytelling, science, art, games, puppetry and skits. Each Sunday the children will attend a different workshop and have the opportunity to explore the same story through yet another medium. Also, through attending regularly, reciting memory verses, and bringing friends, the children will be eligible to win fun prizes and gift certificates in a drawing at the end of each block. The more times each name is in the "hat" the better the chance of winning.

Keys to the Kingdom
K/4 through Grade 5
Keys to the Kingdom Rotation workshops will follow the same format as last year with the children rotating through four workshops during a unit.
Rotation Units 2012-2013
Unit 1 Noah's Ark
Unit 2 Dance for Joy(Peter & John Heal)
Unit 3 The Gift of Jesus
Unit 4 Jesus in the Temple
Unit 5 Jesus is Baptized
Unit 6 Journey to the Cross
Unit 7 Easter: Go and Tell
---
CHILDREN'S LITURGY OF THE WORD

Children, age 4 and up, attend Children's Liturgy of the Word during the first portion of the 10:00 service every Sunday that Church School classes meet. The children process into the chapel for a service conducted by a Lay Reader. The Liturgy of the Word is a "child friendly" service with prayers, singing and a reading of the gospel followed by a short homily. Children are brought into church after the sermon.
There is an exciting program for kids from K/4 through 3rd grade taking place Wednesday nights. The program is fun from start to finish, including skits, games, arts and crafts, and journal keeping, all relating a Bible story to our everyday lives. The children enjoy making the Bible a personal experience.
Grapple for Middle School
Grapple for Middle School, grades 6 – 8, meet on Wednesday nights. It is a dynamic program that helps students discuss or "grapple" with issues with which they struggle, ranging from bullying, peer pressure, popularity, friendships and their questions about the church.
Saint James Episcopal EYC is made up of youth ages 6th-12th grade. 6-8 grades and 9-12th grades meet on Wednesday evenings from 6:30p - Grades 6-8 and 9-12 meet separately on Sunday mornings from 9:00 -9:45 for Sunday School. Please join us as we study, serve, entertain, and grow together as individuals and as a group.